Earlier today the governors media team released a raw video which showed a security operatives trying to snatch result sheets in the just concluded rivers rerun. The Rivers state governor, Nyesom Wike has decided to lead his supporters to police station to register their dissatisfaction and also drop a message to Abuja. Read below as reported by Nigerian Bulletine;
Thousands of Rivers people led by Governor Nyesom Ezenwo Wike took to the streets on Thursday to protest the mass killings by the Police and other security agencies during the December 10 rerun elections.

The peaceful protest march took off from Government House, Port Harcourt at 8am, moved through Azikiwe Street and Bank Road before terminating at the Rivers State Police Command headquarters on Moscow Road.

As the protesters approached the gate of the Rivers State Police Command headquarters, the policemen ran into their premises, closed their gates and peeped from the openings of the gate.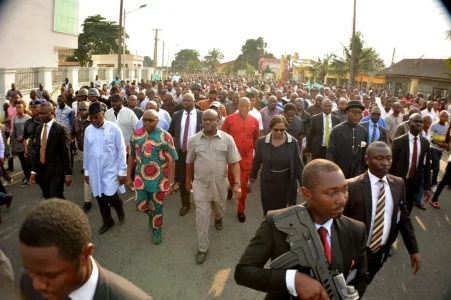 Governor Wike and the other leaders waited patiently for close to 30 minutes before the Deputy Commissioner of Police, Mr Cyril Okoro came out. He, however, spoke through the gate.

Addressing the Police, Governor Wike said that the people of Rivers State were at the Police Command to inform the authorities that they were tired of the killings of innocent people in the state by the police and other security operatives.

He said: "On behalf of the Rivers State Government and the good people of the state, we have to let the police know that enough is enough.

"We demand that the Assistant Commissioner of Police in charge of Operations, Steven Hasso and the Commander of Special Anti-Robbery Squad ( SARS) Akin Fakorede must leave the state.

"Since you don't want to protect the state and you want to be politicians, you have gotten the votes you want to get, you have also gotten the seats you want to get, you can now leave the state."

Governor Wike further stated: "If they don't leave the state, then we will do all we can to ensure they leave this state. They must leave this state. They have killed innocent people.

"We have come here peacefully, communicate this to your superiors in Abuja. I cannot write again, since I have done that repeatedly. Please, I don't want my people to die anymore. I don't want armed robbers posted as senior police officers to Rivers State".

In his response, Deputy Commissioner of Police, Cyril Okoro assured the governor that the Rivers State Police Command will pass the message to the Police High Command for necessary action.

More photos below: