A former Commissioner of Police in Lagos State, Alhaji Abubakar Tsav, in this interview with JOHNSON BABAJIDE speaks on the way forward...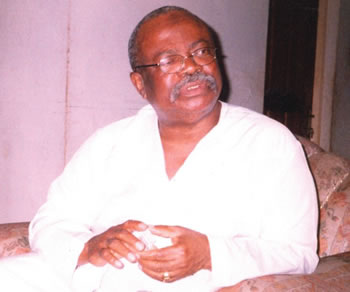 A former Commissioner of Police in Lagos State, Alhaji Abubakar Tsav, in this interview with JOHNSON BABAJIDE speaks on the way forward for Nigeria, the administration of President Muhammadu Buhari and the need for Nigerians to be patient with the government.AT the time the Nigerian nationalists struggled for independence, they had dreams to accomplish. But were they able to achieve them when they got independence?The nationalists such as the Sardauna of Sokoto, Alhaji Ahmadu Bello, Chief Obafemi Awolowo, Dr Nnamidi Azikwe, Tafawa Balewa and host of others who led the country to attain independence had in mind a great nation through self-government. You know the struggle then was to oust the colonial masters and take over the reign of government. To me, I think these people were able to accomplish what they set out to do. The nationalists dreamt of a great and united country that would improve the wellbeing of its citizenry. Hence, the developmental programmes embarked upon by the past leaders in their respective regions.For instance, Chief Obafemi Awolowo opened his people in Western region to education. Many schools were established then; many roads were constructed across the Western region, durable roads that could stand the test of time. I believe that some of these roads are still in use till today. Hospitals were established as well. It is to his credit many developmental projects were started and completed. In the Eastern region, the same thing was witnessed under Dr Nnamdi Azikwe, while in the northern part of the country, which was though backward, Ahmadu Bello made great through his strategic plan. He established schools and introduced crash programme for those who could not have access to the four walls of classrooms at their youthful age. He established technical schools, military training and other colleges to cater for administrative officers. Surprisingly, all these were achieved with little resources at the disposal of the nationalist leaders in their regions.
But where did we get it wrong along the line?
The whole problem started when military took over on flimsy excuses that the then politicians were corrupt. This was the narrative the military used to rubbish the then politicians. Whereas, these people were trained under the colonial masters and they have moral value; highly disciplined, honest, selfless service were the hallmark of this set of people.
So, Nigeria would have experienced tremendous growth in all spheres of life if the early founding fathers were allowed to continue on those developmental foundations they put up then. If the military had not intervened in governance with reckless and frivolous excuses, the country was poised for greatness because the foundation was solid, even when the resources were not there our forefathers exhibited financial discipline and harnessed the little resources within their disposal to set the nation on path of progress.
So, at the time military struck through coups and counter-coups, all the structures put in place were destroyed. For instance, our education has become bastardised. It is as though the present political leaders are worse off and further helped in destroying the remnants of the forefathers' legacy. If not, why is it that the government in power prefers foreign professionals more than our own professionals? If they want to construct roads, they go to China and bring experts. What happens to our indigenous experts such as engineers, medical doctors? This is why most of our hospitals are left unattended to. And when members of the political class have any little sickness, they rush abroad for medical attention. Whereas, the resources expended on such exercise ought to be channeled to procure state-of-the-art equipment for our hospitals at least to plug the funding gap created through the diversion of public funds into private pockets and many of them are richer than the nation. Nigeria has become a consuming nation. Almost everything we consume is imported. We are greedy and discontent with what we have.
What is the way out for Nigeria?
The way out is to continue to honour those who served this nation so as to boost the morale of Nigerians and encourage dignity of labour. But not to heap praises on those looters who have destroyed the country. Also, let the present administration strengthen the anti-corruption agencies to deal with all those corrupt leaders. Let me emphasise that President Muhammadu Buhari is doing the best thing in this direction and I appeal to Nigerians to be patient with him because the rot had been too much and to fix it will take a long time. But I think we are in a better hand to get out of the mess, which the past administration has thrown us into.
We need a leader like President Buhari to restructure Nigeria. The policies made so far as well as anti- corruption crusade are needed tonic to get out of the problems we have found ourselves. Those complaining now are enemies of Nigeria. In a situation like this, before we get things right there must be pangs of inconvenience and thereafter there is light at the end of tunnel. That is why I am appealing for patience, because everything will soon be right.
Source:Tribuneonline